Several Favourable Bodies
Artistic research, participatory epistolary action, work in progress since 2020.

My current artistic research takes as its conceptual and material starting point the private library of French artist and writer Hervé Guibert, whose book collection has been preserved at the Paris home of his executor since his 1991 death from AIDS. The project imagines alternative approaches to art historiography and the forging of queer kinship bonds through the design of participatory, community-generating gestures involving epistolary actions and performative museum visits across Europe.

Hervé Guibert's Library
I had the opportunity to visit the library of French author and photographer Hervé Guibert (1955-1991), whose books have been kept in the Paris home of his executor, Christine Seemüller, where they stand on his original bookshelves. In addition to numerous mentions of his library in his writing, Guibert also produced a photograph of his library in 1987, entitled Ma Bibliothèque, pictured below.

My encounter with Guibert's books stirred many thoughts and feelings within me, many of which stemmed from an awareness that it was a kind of posthumous library, one in which nothing more would ever be added, a library whose reader and collector was missing. The books themselves carried few traces of Guibert's use, for he apparently did not notate his books, nor fold the corners or mark pages in any other way. Some books had dedications inscribed on the front pages, which served as the only signs of life and relation.


Most striking about the current state of Guibert's library (as is visible in my photograph from 2017, above) is the absence of the fifty-six picture postcards that appear displayed in front of the books in his 1987 photograph. Seemüller explained to me that after Guibert's death, she distributed the collection of postcards among his friends, allowing each individual to select the cards they wished to keep. I am interested in these postcards, not only for their visual appeal, but also as diaristic and epistolary material, as signs of life, travel, communication, and relation.

Recollecting
I have therefore embarked on a process of identifying and collecting as many of the postcards that appear in Guibert's photograph as possible; to essentially "re-collect" this missing visual and relational material from his library. This process has involved reaching out to art historian colleagues and art-lover friends around the world, telling them about my encounters with the library, and requesting their assistance in my task. One artwork was even identified by a stranger on Grindr.


To date, twenty-one postcards have been identified, the majority featuring artworks from European museums: : Pierrot by Antoine Watteau at the Louvre ; Yawning Apprentice by Mihály Munkácsy at the Hungarian National Gallery; and six different self portraits by Rembrandt in museums spread across Europe.


As the postcards are identified, themes emerge: an interest in self-portraiture, the fragility of childhood, and a fascination for corpses and cadavers. I have not been able to determine to what degree the postcards were sent to Guibert by friends, or how many were collected independently by him; and while I resist making simplistic analyses of the themes this collection transmits, I cannot help tracing links between the postcards and information about Guibert's character revealed through his diaries, published posthumously as Le Mausolée des Amants. Guibert appeared to be obsessed with his own death, even before his HIV diagnosis emerges in his undated diaries, which begin in 1977 and continue until his death. One early passage in particular calls out to me across time:



"Writing might be a single force that distributes itself, over the centuries, while inserting itself into several favourable bodies, which would only be relays to the general project of writing, of this monumental trace, infinitely constituted…in my capacity as a writer, as a man relatively devoted to writing, I could imagine that what I have been able to make of this writing, after a fashion, will one day be assimilated by another favourable body, which will carry it further (I am preemptively in love with that body), there would be in writing a phantasm of insemination, of birthing: twenty year's after one's death, a century after one's death, putting a fantasy of writing into a foreign body."



Guibert's amorous and erotic imagining of future readers — whether of his writing, his images, or his archives — and the proposal of his traces as monumental, fuel my research and influence the form it takes, encouraging artistic methods that not only reach towards Guibert across time, but that also imagine novel approaches to the creation of community and kinship networks of these "favourable bodies."

Once an artwork from one of Guibert's postcards is identified, I contact a friend, lover, or colleague who lives in the city where the artwork is housed. I ask them to visit the museum, purchase the postcard from the museum store, write a note on it, and send it to me. So far I have received postcards from friends in Amsterdam, Stockholm, Munich, Palermo, Budapest, New York City, Pisa, Stuttgart, Paris, and Vienna. The postcards are often accompanied by other, unsolicited material: letters, postcards of other artworks, even pressed flowers, expanding the visual culture of the project.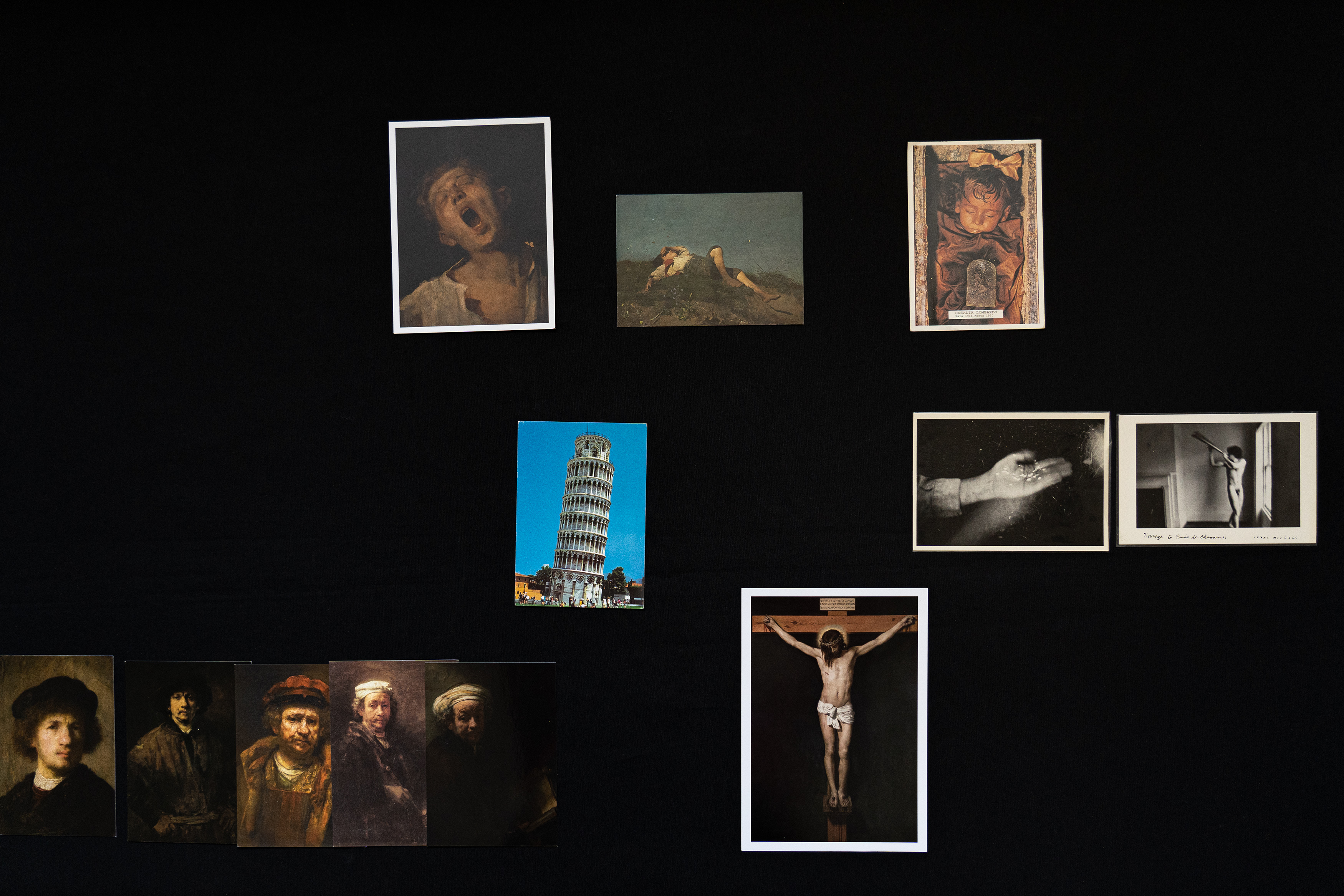 My plan is to continue identifying artworks and collecting postcards with the help of friends, and for the "re-collected" postcards and accompanying traces of epistolary activity to become the material for an artwork of yet-unknown expressive form. My past work with epistolary materials, audio mediation of artworks and artefacts, and my significant body of artworks engaging lesbian and gay archives will inform the final creation process.


In April 2021, I participated in a research residency at the Museo Reina Sofía in Madrid to advance my work with Guibert's postcards. The sojourn resulted in the creation of my own collection of postcards, activated by members of the local queer, art, and activist community at a research action entitled Ojalá estuvieras acquí.
In June 2021, an installation of research materials related to this project was exhibited at the Fondation Fiminco in Romainville, France.



The exhibition included a research table inviting guests to assist me in identifying postcards from Guibert's collection; a sculptural arrangement of thirteen postcards received from participants across Europe; a suite of photographic still lifes of postcards, flowers, and pages from Guibert's books; and three audio letters addressing individuals involved in my research: curator Julia Dartois, artist Conny Karlsson Lundgren, and Hervé Guibert himself. The audioletters can be heard in French and English versions on this dedicated website.
As part of his independent research into Guibert's life and work, library curator Philippe Galanopoulous visited me to discuss my own project. As part of his research process, Philippe took analog photographs of the postcards of Rembrandt self-portraits I have collected with the help of friends.
If you would like to contribute to my research, either through helping to identify artworks, exhibiting the work in progress, or through some other dialogue, please contact me at benny@nemer.be This research is supported by the Canada Council for the Arts.